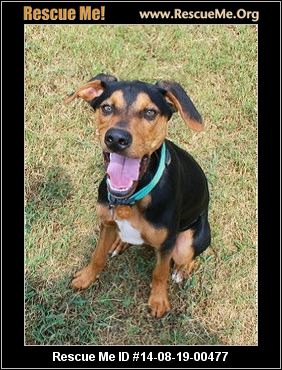 Animal ID: 430821
puppy - 5 mo.
(male)
Doberman Pinscher Mix    Age: Young Puppy


| | |
| --- | --- |
| Compatibility: |  Good with Most Dogs, Good with Kids and Adults  |
| Health: |  Vaccinations Current  |
    This puppy's owner is in the service and needed to go live in the barracks where his dog couldn't accompany him. The puppy is now in foster care so he can still receive the socialization and training to help him adapt to a new home. Very sweet little guy. Please read completely: FOR INFORMATION ON THIS ANIMAL PLEASE CONTACT 256-883-3783. BE SURE TO HAVE ID# READY. Animals at this shelter are held a reasonable amount of time so at the time of posting it is adoptable and not in immediate danger. However, the time period is limited depending upon the shelter population. Please note: THE SHELTER IS FULL. If you are interested in fostering, the ... (Read More)need is great and we would love to have you. If you are interested in adopting me: 1) Write down my Animal ID # . 2) Make sure to mention Animal ID # when visiting or calling. 3) Remember all adoptions stop 30 minutes prior to closing time. 3) You will not be allowed to place a hold on me. 4) I cannot be shipped to you. 5) Before adopting me, you can spend time with me outside or in a meet and greet room. Please ask for assistance. 6) We take cash, checks, debit cards, VISA and Mastercard as a method of payment. **IMPORTANT: Huntsville Animal Services cannot guarantee that I will still be available for adoption as we do not hold animals for anyone under any circumstances. Animals are adopted on a first come, first serve basis. You may want to call and ask if I am still available prior to visiting the shelter. When you adopt me, I will stay at the shelter and be taken to the veterinarian of your choice where I will be spayed or neutered before going to my new home. If I am already spayed or neutered, I can go home with you upon adoption. My adoption cost is very affordable and includes my adoption fee, spay/neuter, vaccinations, deworming, license (if you live within Huntsville city limits), a collar and personalized ID tag. Please know that a high percentage of animals in the shelter are brought in as strays. It is impossible to know anything about a stray animal and many times we can only make our best educated guess on breeds, age, etc. Every animal you see posted here has passed a general temperament test as performed by shelter staff and it is considered to be non-aggressive. ADOPTION FEES Dogs: $80 - 170 - includes spay/neuter surgery, vaccinations, rabies voucher, deworming, *heart worm and flea/tick prevention; purebred dogs and puppies tend to cost more and dogs that have been in the shelter longer will probably cost less. Cats: The shelter is currently running a $35 special on cats. (regularly $80) - includes spay/neuter surgery, vaccinations, feline aids/leukemia testing, rabies voucher, deworming, *heart worm and flea/tick prevention LICENSE FEES $10 - 1 year license $35 - Lifetime license EVERY ADOPTER RESIDING IN THE CITY OF HUNTSVILLE, AL WILL BE REQUIRED TO PURCHASE ONE OF THE ABOVE LICENSE OPTIONS AT TIME OF ADOPTION OPTIONAL SERVICES $10 - Heartworm test. Blood test known as the 'snap test' that shows when heart worm antigens are present in the blood. $20 - Microchip. Another line of defense to help you get your pet back in the event he/she is lost. This is especially recommended for those pets known to climb fences, chew collars/tags, etc. Start your new pup out right by gentle training and socialization. If you confront a behavior problem you are not sure what to do about, Laurel Rose is a dog trainer in Huntsville who has offered to meet with people who adopt dogs from the Huntsville Animal Shelter for a free evaluation. Phone is: (256) 890-1234. (Less)

Animal Location:

Huntsville Animal Services
4950 Triana Blvd
Madison County Huntsville , AL 35805 MAP IT!

| | | |
| --- | --- | --- |
| Contact: | Customer Service 256- 883-3783 Please have the Pet's Animal Identification number ready. It is best to email our contact person as we are often too busy to give the best answers for your questions over the phone. | |